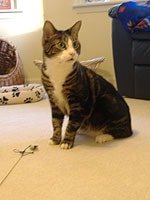 Located in Gaithersburg, Maryland, Gaithersburg Veterinary Clinic is committed to providing quality, friendly care to the pets of Montgomery County.

Our patients include just about every kind of small animal and pocket pet: dogs, cats, rabbits, guinea pigs, ferrets, chinchillas, hamsters, gerbils, mice, and rats.

Each veterinarian and team member is deeply committed to the health and well-being of your pet. We love animals as much as you do! Our mission statement is to be known as the best, most caring veterinary practice in our community.